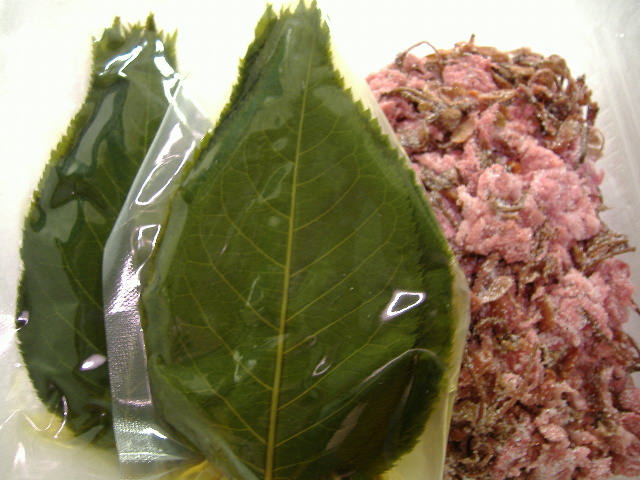 TRY MAKING & USING SALT-CURED SAKURA
This project is about MAKING & USING Sakura no Shio-Zuké, salt-cured blossoms and/or leaves.
Commercially prepared salt-cured blossoms and leaves are sold in vacuum-sealed bags (sometimes blossoms are sold in glass jars). Aroma dissipates quickly after opening so it is best to transfer unused blossoms or leaves to a container that can be sealed tightly. Refrigerate after opening.
The biggest challenge to salt-curing your own will be to find fresh cherry blossoms and leaves that have not been exposed to chemical sprays or other toxic substances (such as exhaust fumes from cars and trucks from highways). If you are able to source blossoms and/or leaves that have not been exposed to toxic substances, use the instruction/recipes at EDIBLE SAKURA Blossoms & Leaves Kitchen Culture post.
TSUDOI kitchen project assignments are linked thematically to my KITCHEN CULTURE blog. Reference materials for  assignments are stored on this TASTE of CULTURE website (previous assignments and reference documents were available only to members of the Face Book Group within the FB Files Library).
For those who wish to post photos of their own kitchen projects, comment and/or ask questions about this and other projects, you will need to be a member of TSUDOI Group. Membership is opt-in and free-of-charge. If you are not already a member, please apply here.

Looking forward to seeing what Tsudoi members make in their kitchens…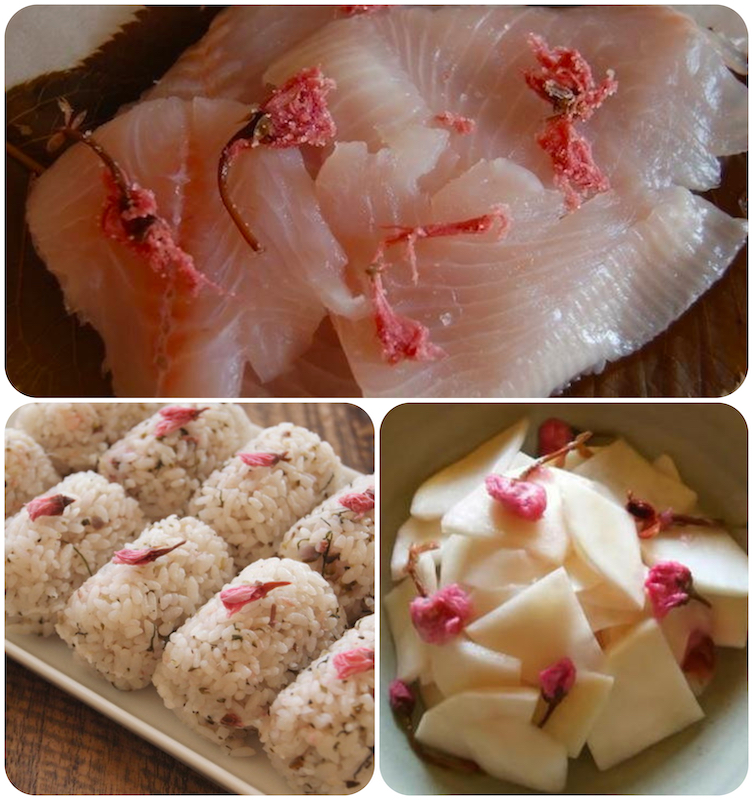 Savory Dishes Made with Salt-Cured Sakura
Salt-cured leaves and blossoms perfume steamed fish; mild-flavored sea bass, flounder and/or cod are best.
Sakura gohan rice can be served in bowls, or shaped into log-like bundles to pack into a picnic (recipe page 25 KANSHA).
Cherry-Infused Turnip Quick-Pickle can be made with a cherry-infused brine, salt-cured flowers or the excess salt shaken off of cured flowers.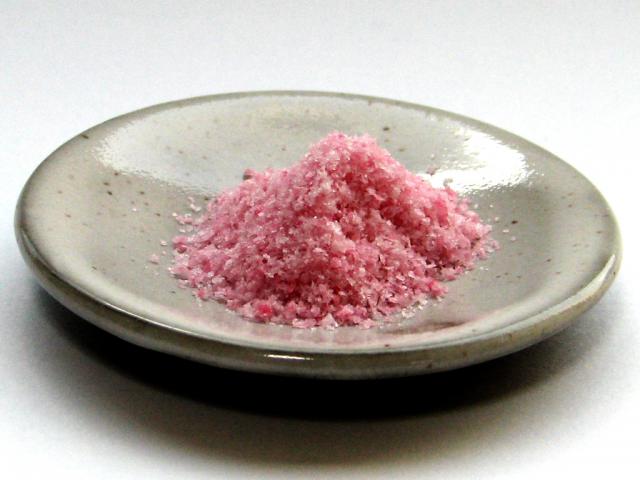 Sakura Salt (sakura-jio) 桜塩
Salt-cured blossoms are heavily crusted with salt. It is best to shake off some before using the blossoms. Place the salt-cured flowers in a fine-meshed strainer set over a bowl. Tap the strainer to shake off excess salt; gently rubbing the blossoms between your fingertips also works well.
SAVE the excess salt to use as an aromatic finishing touch to fried and grilled foods, omelets, even ice cream!
Store the aromatic salt in a small sealed glass jar or wrap in parchment (fold to make a packet) and then into a re-sealable bag. Storing in the freezer will help to preserve aroma.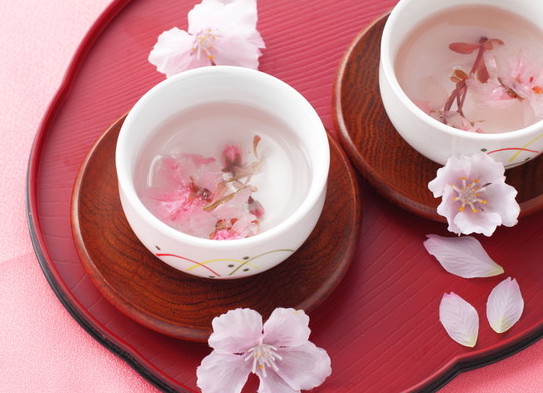 Sakura Yu 桜湯
Salt-cured cherry blossoms make a savory, tealike broth called sakura yu. It is often served as a "welcome drink" at wedding receptions. Why? Several "explanations" are offered:
The delicate floral aroma and unfurling blossoms evoke SPRINGTIME, a time of new beginnings. Weddings celebrate the beginning of a new family unit.
Another, very different (but quite plausible) explanation is that drinking ordinary green tea (the welcoming beverage at most gatherings) might encourage (unwelcome) gossip. Serving sakura yu puts everyone "on notice" — this is NOT the time to air your opinion of the marriage match.