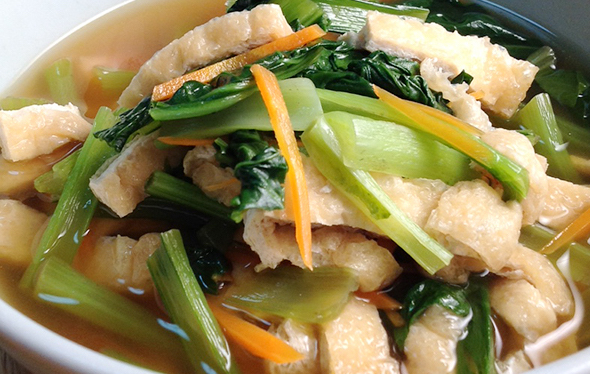 TRY PREPARING KOMATSUNA
This project is about PREPARING DISHES with KOMATSUNA, a leafy green in the brassica family. A home-style classic komatsuna dish, Komatsuna to Abura Agé no Ni-Bitashi (pictured above) is featured in my March 27 Kitchen Culture blog post.
Our TSUDOI Project is to take this as a point of departure in creating some variation on the theme. To get you started with a few ideas, take a look at the goma aé and Shinoda Maki explanations here.
TSUDOI kitchen project assignments are linked thematically to my KITCHEN CULTURE blog. Reference materials for assignments are stored on this TASTE of CULTURE website (previous assignments and reference documents were available only to members of the Face Book Group within the FB Files Library).
For those who wish to post photos of their own kitchen projects, comment and/or ask questions about this and other projects, you will need to be a member of TSUDOI Group. Membership is opt-in and free-of-charge. If you are not already a member, please apply here.

Looking forward to seeing what Tsudoi members make in their kitchens…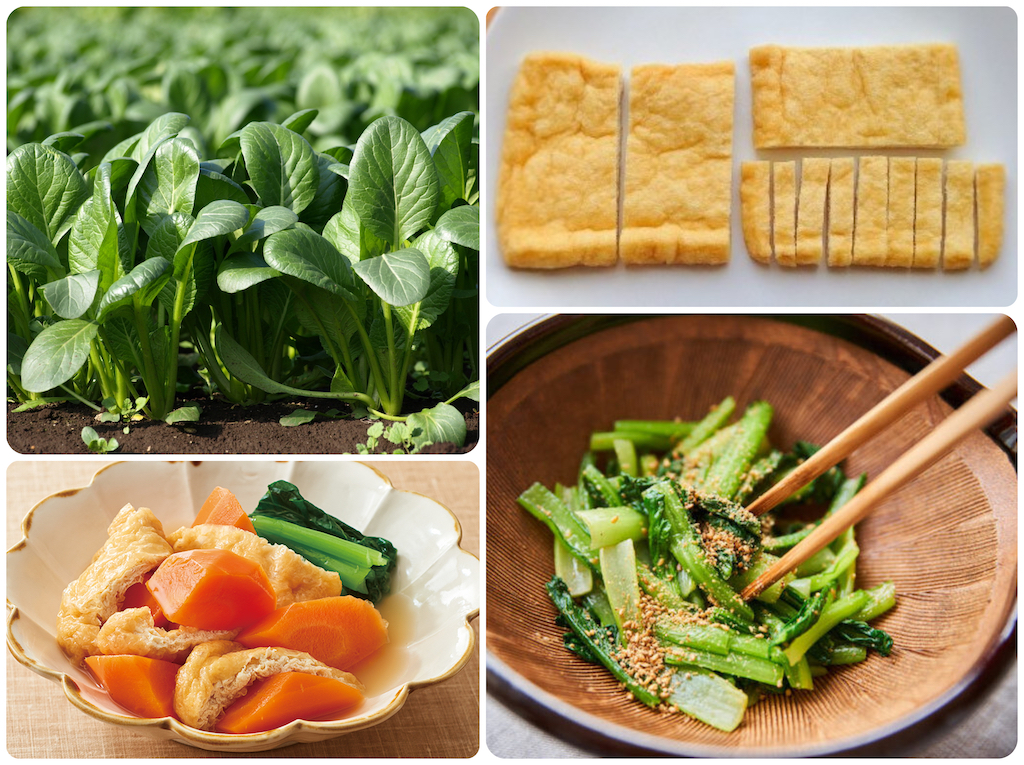 Komatsuna Dishes
One simple-to-assemble komatsuna dish is goma aé: Toast some sesame seeds in a skillet and transfer them to a suribachi (grooved mortar) while still warm. Crush the seeds until they release a nutty aroma. Add a drop each of soy sauce and mirin (sweet, syrupy saké) to the bowl of the suribachi and grind a bit to distribute flavor. Take short lengths of blanched-and-steeped komatsuna and toss them in the suribachi to lightly dress the greens in nutty sesame sauce.
Another way to use blanched-and-steeped komatsuna is to serve alongside broth-simmered vegetables (such as carrots) and strips of abura agé (fried tōfu).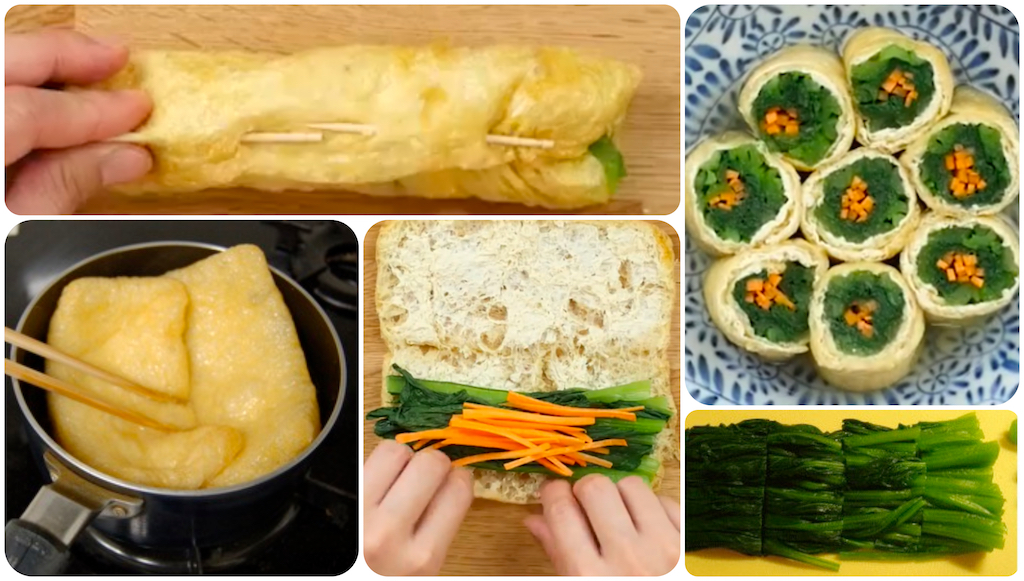 Shinoda Maki 信太・信田 巻
Japanese culinary lore is filled with stories of fried tōfu (abura agé)-loving foxes. Various dishes that include abura agé will often have kitsuné (fox) in their name; kitsuné soba is one example. Or, as in this dish that uses abura agé to enclose other vegetables, the name includes Shinoda.  Why? Read about foxy culinary connections in my July 27, 2020 post.
To make Shinoda Maki, you'll need to open up a piece of abura agé into a sheet (trim off both shorter ends and open one long end). Place a bundle of blanched-and-steeped komatsuna and carrot strips across the bottom half and snugly roll up. Secure with toothpicks before placing the rolls in dashi broth seasoned with a few drops of soy sauce and mirin. Simmer for a few minutes and let the rolls cool in the pan to absorb full flavor. Remove the toothpicks before cutting each roll in 3 or 4 segments.