Setsubun Sushi Rolling
Welcoming luck in the new year
Sushi Rolling Workshop
Learn to make plump, Good Fortune (sushi) Rolls called éhōmaki. On Setsubun, these rolls are gobbled, unsliced, while facing the "auspicious direction" (ehō) chosen for that year. Good fortune in 2020 will come from the West South-West 西南西.
About SETSUBUN 節分
On the ancient, lunar-based koyomi calendar, setsubun breaks occur many times during the year. Today in Japan the setsubun break that is most celebrated is on February 3, and it corresponds to the start of the lunar New Year. Over the years, rituals developed surrounding setsubun to insure that evil was left behind in the old year, and good things could (and would) happen in the year to come.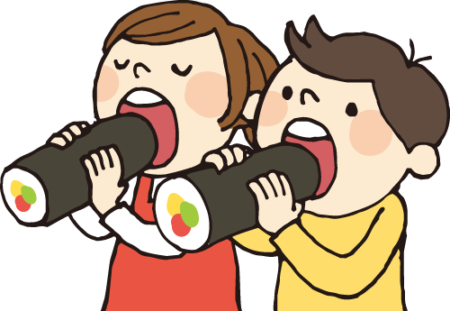 Oni monsters personify bad things and are traditionally expelled by shouting and throwing dry-roasted soybeans. Throughout Japan, school children make monster masks they don while they yell: ONI WA SOTO (throw the ogres out!) This is said standing at the entrance to your home and/or place of business while throwing several beans OUT, over your shoulder. FUKU WA UCHI (bring in good fortune!) This said after you turn around and throw a few beans over your shoulder IN to your place of business, or home. Finally, eat the same number of beans as your age. (I love dry-roasted soybeans and each year I am glad to eat more of them!)
After everyone has made, and eaten, their plump éhōmaki, we'll finish our Setsubun workshop with some bean-tossing fun!
Tuition: ¥7,000 per person
Notes
Instruction at A Taste of Culture is in English. A Taste of Culture's mission is to empower participants in the ways of the Japanese kitchen, providing them with basic skills and knowledge regarding traditional/classical cooking methods, equipment, ingredients, menu planning, and food presentation. By focusing on essential foodstuffs and procedures, program participants will be able to re-create authentic Japanese cuisine no matter where in the world they may be.
A Taste of Culture does not offer instruction in the preparation of raw-fish dishes. The topic of selecting and handling a variety of fish to be consumed raw, is a subject that I believe is beyond the scope of any short program I could deliver. However, the menu-curriculum at A Taste of Culture can include the preparation of sushi meshi rice combined with cooked, smoked, and/or pickled fish, egg, and vegetables. Techniques for rolling, pressing and layering can be included in the curriculum.
Please see our Cancellation Policy and other FAQs.