2-Session OSECHI Workshop: DECEMBER 2021
English language culinary arts programs in Tokyo, Japan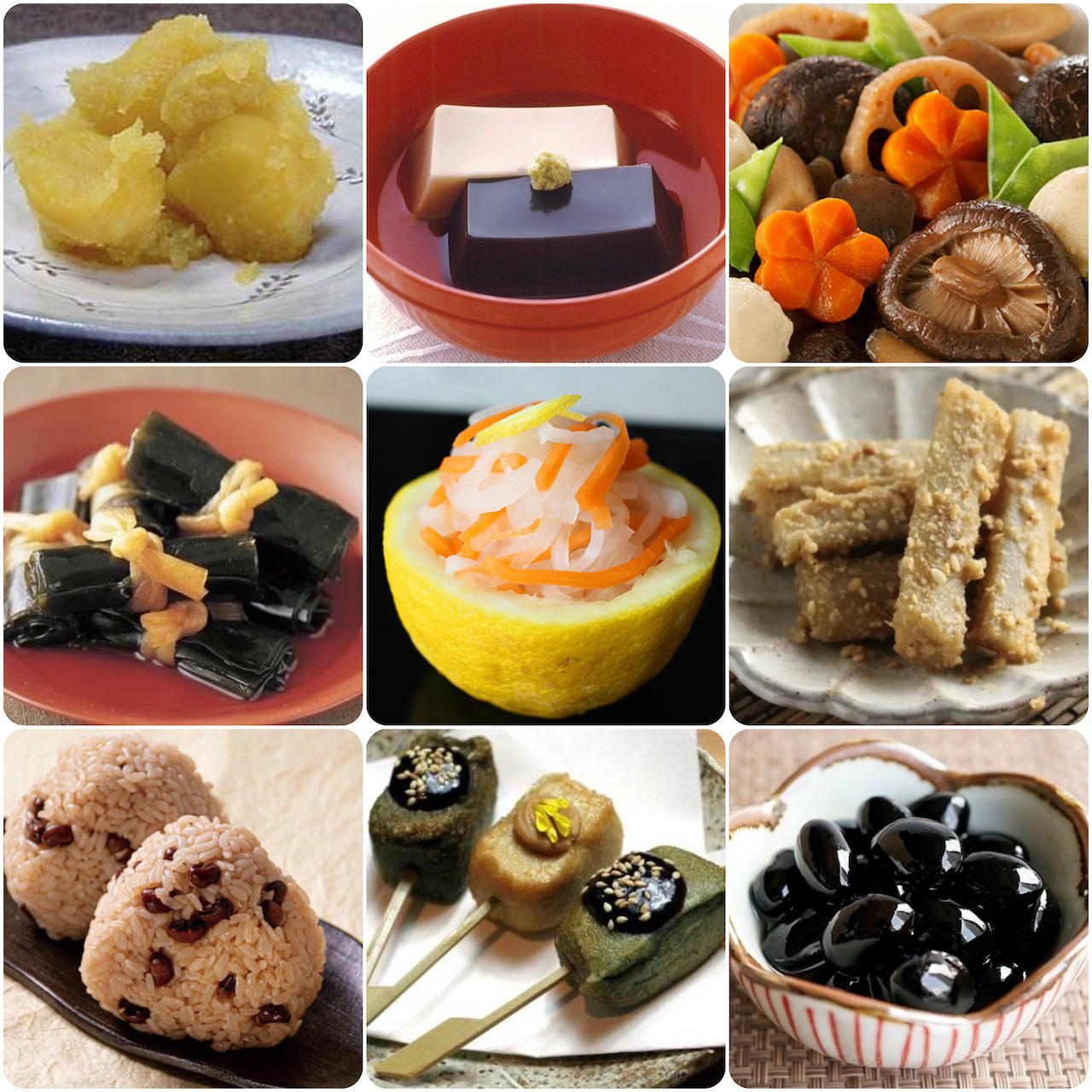 2-Day INTENSIVE Workshop with Elizabeth ANDOH
Class size is limited to 6 participants to provide the most effective learning environment & insure best Covid-Prevention Practices.

Friday, December 3 (6:30 – 8:30 pm)
Saturday, December 4 (10:30 am – 4:30 pm)

The evening and day sessions both held in A Taste of Culture's Tokyo Kitchen
Japan's New Year holiday season is called Oshogatsu and the festive food served to celebrate the occasion is known as OSECHI. Packed into a multi-tiered lacquer box called a jūbako, many of the traditional foods like kuro mamé (sweet black soy beans) or kobu maki (slow-simmered, bite-sized kelp rolls) take days to prepare.
Increasingly, urban cooks order pre-made osechi assortments. From late November you will see wax model displays of osechi in department store food halls. Pick up one of the full-color catalogs: a feast for the eyes! And, take note of the (exorbitant) prices charged for these assortments!
I have been making osechi for decades, and LOVE to lavish time on the process, especially when I can share these foods and traditions with others.
The Friday evening session includes a light supper composed of many of the foods pictured here. You'll learn to carve carrots into plum blossoms and begin preparing several dishes to be enjoyed on Saturday. Information on year-end customs is included in the packet of program materials along with recipes for both savory and sweet dishes to add to your own holiday menu. Join me for an early New Year celebration – giving you time to practice your new skills in time to make osechi dishes for your holiday table!
This menu is VEGAN utilizing foods from Japan's temple vegetarian traditions (shōjin ryōri).
Tuition ¥15,000 per person.
2-Session OSECHI Program Request
Notes
Instruction at A Taste of Culture is in English. A Taste of Culture's mission is to empower participants in the ways of the Japanese kitchen, providing them with basic skills and knowledge regarding traditional/classical cooking methods, equipment, ingredients, menu planning, and food presentation. By focusing on essential foodstuffs and procedures, program participants will be able to re-create authentic Japanese cuisine no matter where in the world they may be.
A Taste of Culture does not offer instruction in the preparation of raw-fish dishes. The topic of selecting and handling a variety of fish to be consumed raw, is a subject that I believe is beyond the scope of any short program I could deliver.
Please note that A Taste of Culture strictly observes all guidelines provided by Japanese authorities to reduce the risk of contagion of Covid-19. Measures include, but are not limited to: frequent hand-washing & drying with designated towels, the donning of disposable gloves when requested, and the wearing of a face mask throughout the program. All food will be individually plated; no food will be shared. All participants are asked to refrain from conversation while eating since masks need to be (briefly) removed at that time. There will be ample time for conversation, discussion and Q&A after the meal (and AFTER donning face masks again).
Please see our Cancellation Policy and other FAQs.