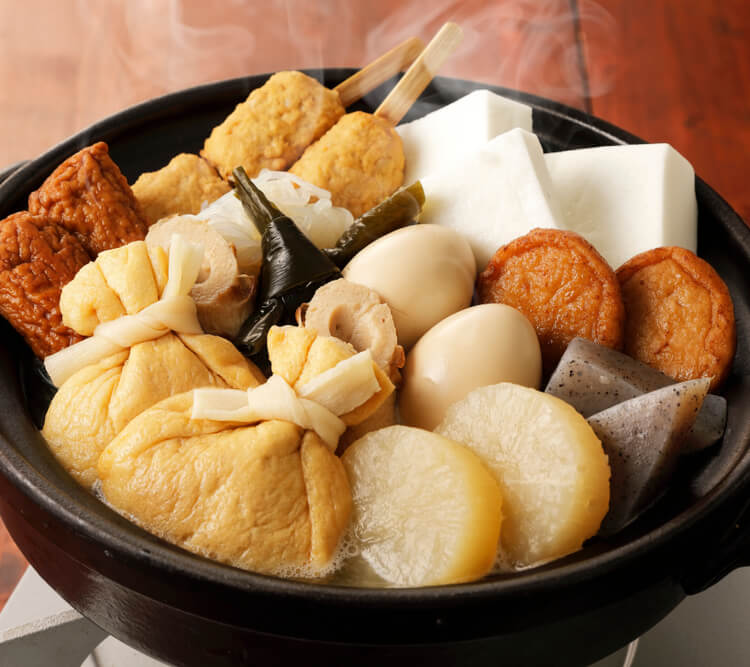 おでん

ODEN
Various ingredients find their way into the belly-warming stew known as oden. Most versions include myriad sausage-like items made from surimi (fish and seafood ground to a paste). Some of these are deep-fried while others are boiled, roasted, grilled or steamed. It can be challenging to identify the various items (especially for those new to eating oden).
I have created an illustrated cheat sheet "guide" to some of the more puzzling surimi sausages. Download An Illustrated Guide to (surimi) ODEN Items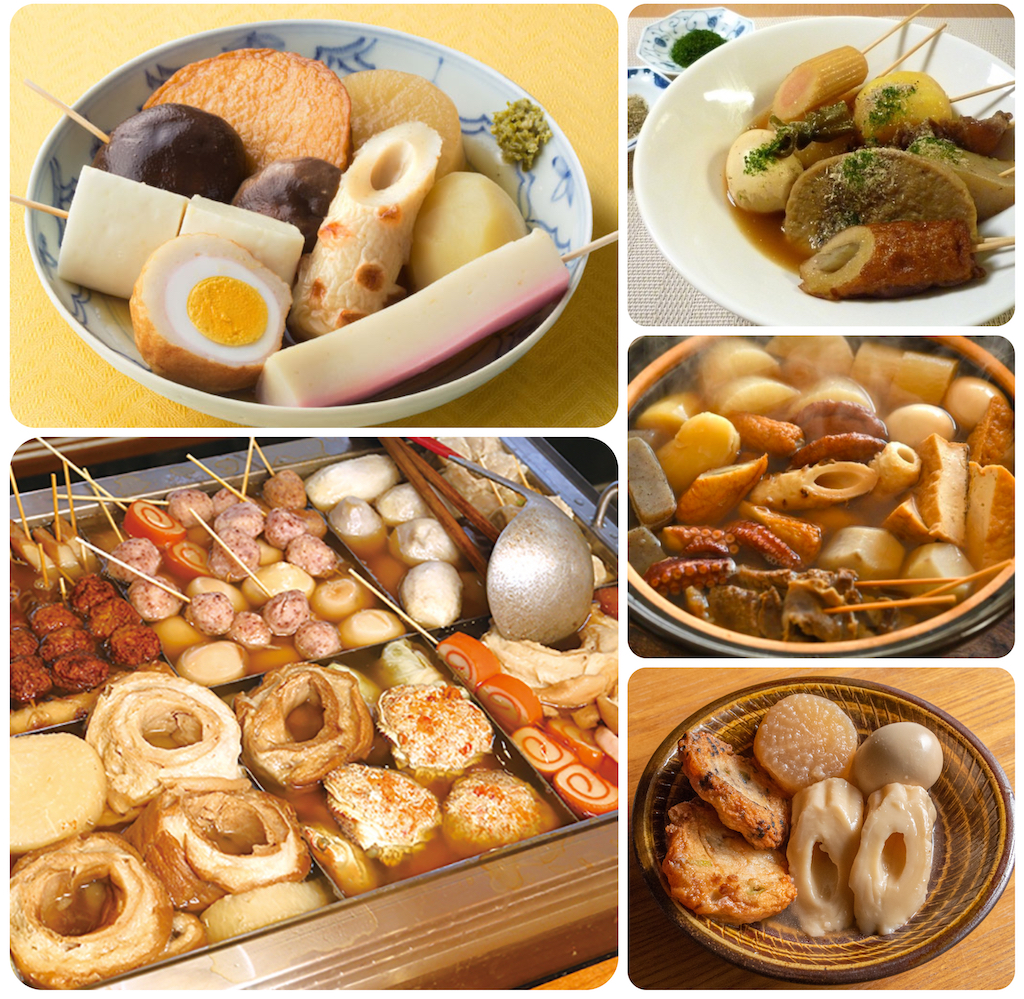 As with many dishes in Japan, regional variations abound. Oden served in the Kanto region (Tokyo and its environs) is typically slow-simmered in a pale amber-colored, slightly sweet yet savory, katsuo-bushi-enriched broth. Sharp karashi mustard is often smeared on the edge of the plate (for either dipping piece-by-piece, or dissolving in some of the broth).
In the Kansai area (Osaka, Kyoto, Kobe), oden is a hodge-podge assortment simmered in a dark, soy-burnished soup referred to as Kanto NI (literally "simmered in the style of Tokyo") an oxymoron if ever there was one The usual Kansai choice of usukuchi soy sauce is replaced by the Kanto "norm" of dark soy sauce. Most versions of Osaka oden include gyū suji (bits of beef tendon threaded on thin skewers).
Shizuoka's distinctive version of oden (upper right) includes kuro ("black") hanpen made from assertive mackerel and sardines rather than mild-flavored, pale-colored cod and flounder found elsewhere. The finishing touch for Shizuoka oden is a sprinkle of ao nori sea herb, mixed with crushed, toasted katsuo-bushi.
Kanazawa (Ishikawa Prefecture on the Sea of Japan) is known for its dried ofu wheat gluten so its not surprising that Kanazawa's oden (lower left) includes circles of kuruma-bu that absorb the flavorful broth.
Nagasaki's oden (upper left corner) inevitably includes skewered slabs of pink-and-white kamaboko and something locals call "Dragon's Eye" — boiled eggs encased in fish paste and cut in half… somewhat like Scotch eggs are cloaked in minced pork sausage.
DOWNLOAD a basic recipe for assembling oden. You can choose either the KANTO version or the KANSAI version for the broth.