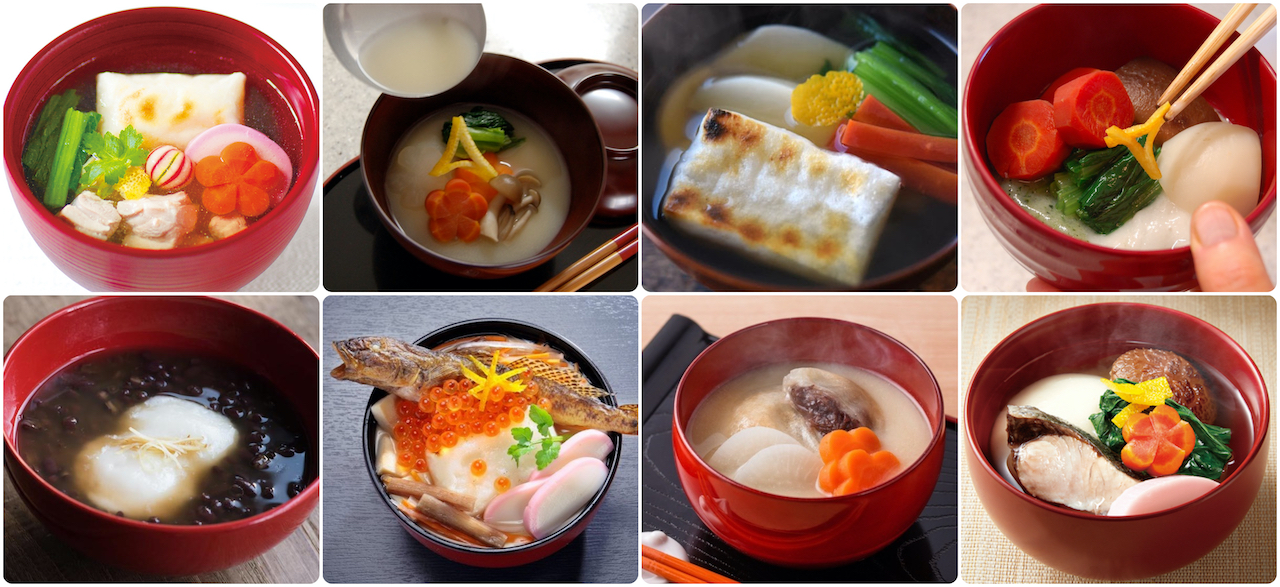 A sampling of REGIONAL OZŌNI
Top row, from left: Kanto (Tokyo area) style, Kansai (Kyoto, Osaka) style, Kanto, Kansai
Bottom row, from left: Tottori with adzuki-jiru, Miyagi with whole grilled goby fish, Kagawa (Shikoku) with anko-filled mochi, Hakata with buri and local leafy green (called katsuo na because it tastes somewhat like katsuo-bushi)
Make YOUR OWN HOUSE Version of OZŌNI
Members of the Kitchen Culture Cooking Club are scattered around the globe. PROJECT OZŌNI asks members to create a version of ozōni that showcases your particular location. Choose one or two foodstuffs that are special to your area; what the Japanese call tosan butsu or local delicacies. In addition, choose 2 or 3 more  items (vegetables, fish and seafood, meat, poultry, and tōfu) to add volume to your bowl.
There are many possibilities for creating Ozōni but all must include:
Either round, hand-shaped and boiled or… rolled sheets, cut into squares, and toasted. The rounds are squishy-soft and loose their shape when boiled; the cut squares brown slightly, puff and split to reveal gooey-soft centers (think roasted marshmallows). Download a reference sheet about preparing and enjoying omochi.
tosan butsu (local delicacies) 土産物


Sourced from both land and sea – vegetables and fish, fowl, sea creatures – local delicacies can be poached, grilled, and simmered or kept fresh (aromatic citrus zest is a favorite garnish).
The Kitchen Culture Blog post for OZONI includes a classic KANSAI-Style Ozōni made with a miso-enriched stock and boiled omochi. Use this as a guide to creating YOUR OWN HOUSE OZONI.
Can't wait to see YOUR OZONI!