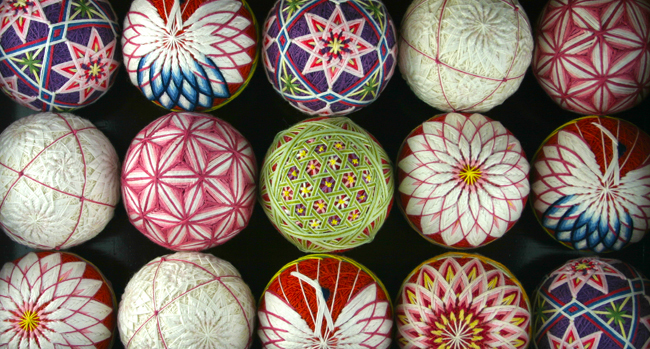 Pom Pom Sushi
Temari-Zushi 手まり寿司
Like many frugal Japanese women who managed households in the early and mid 20th century, my mother-in-law, Kiyoko Andoh, practiced thrift in and out of the kitchen. She saved bits and pieces of cloth, turning them into quilted cushions and throws. Odd lengths of thread were transformed into charming string-ball ornaments of various patterns. Called temari they are made by winding colorful strands around a spherical core.
In the kitchen, my mother-in-law would take slices of salt-wilted, pickled or soy-stewed vegetables to make what she called temari-zushi, bite-sized spheres of tart sushi rice each with its own decorative topping. Though not especially fluffy, the pert, plump sushi balls with colorful toppings reminded me of pom-poms. And that is how I came to name them Pom Pom Sushi.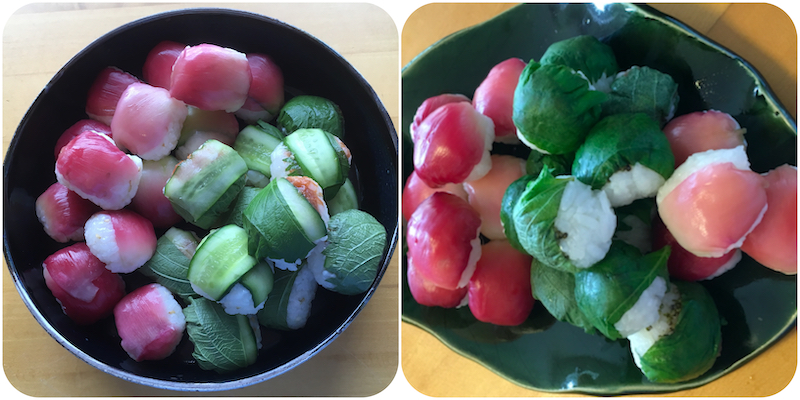 left photo © Kathleen Gavigan; right photo © Melissa Chapman
I hope you'll try your hand at making these bite-sized sushi balls: Download a recipe for Pom Pom Temari-Zushi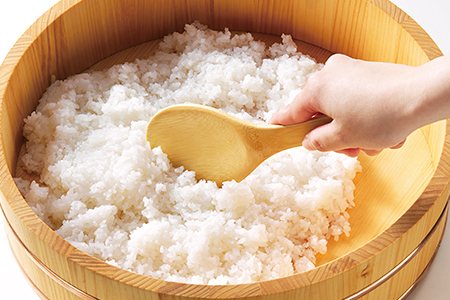 Tart Sushi Rice
Su Meshi 酢飯
Slightly sweet, vinegar-seasoned rice called su meshi (literally "tart rice") is the basis for all sushi dishes. For optimal flavor and texture when making su meshi, use freshly cooked and still-warm, Japanese-style short-grained white rice that has been rinsed really well to remove surface starch. As warm rice cools it is most receptive to absorbing the seasoned vinegar (that is why freshly cooked rice is best). If surface starch remains on the rice because it has not been thoroughly rinsed away, the cooked rice can become unpleasantly gummy and gluey.
It is difficult to make tender, flavorful su meshi from brown rice. The hull of whole-grain brown rice (genmai) is tough and becomes a barrier to absorption of the seasoned vinegar. If concerned with nutritional value at mealtime, I suggest you incorporate nutrients through other foods eaten in conjunction with your su meshi rather than looking to the rice to supply most or all essential nutrients.
DOWNLOAD instructions for making SU MESHI, tartly seasoned rice for sushi.