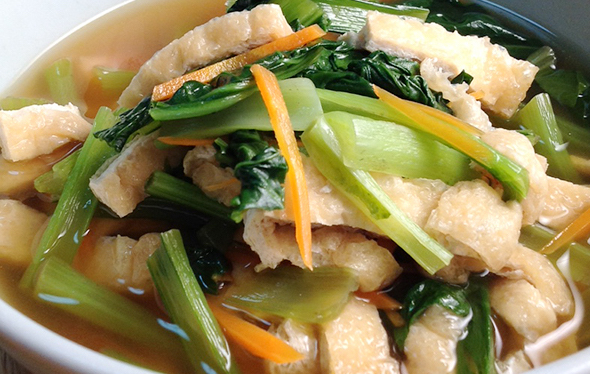 KOMATSUNA, a member of the brassica family of leafy greens, has been cultivated in Japan since the Edo period (1603-1868). The naming of the vegetable is attributed to the 8th shogun, Tokugawa Yoshimune. It seems that during a visiting to a shrine near the Komatsu River (modern day Shin-Koiwa, Chiba), Shogun Yoshimune enjoyed a soup featuring the local leafy green so much that he officially named the vegetable for the area.
Ni-bitashi is quintessentially Japanese – a mainstay of home cooking. NI means to simmer and HITASHI (or bitashi) means steeped. Leafy greens such as komatsuna are briefly blanched, then placed in dashi stock to steep. Seasoning the stock with a drop each of light-colored soy sauce and mirin enhances flavor. As the vegetables cool they become infused with the flavor of the seasoned dashi in which they have steeped.
Download a recipe for Simmered-and-Steeped Leafy Greens with Fried Tōfu. For dashi stock, use either  Standard Sea Stock OR vegan Kelp Alone Stock.
For maximum flavor and nutrition, prepare komatsuna ni-bitashi as soon after buying (or harvesting) the leafy greens as you can. Don't hesitate to make a large batch of the steeped greens, since they can be held for several days in the refrigerator. When ready to serve finish by briefly simmering with strips of fried tōfu and slivers of carrot.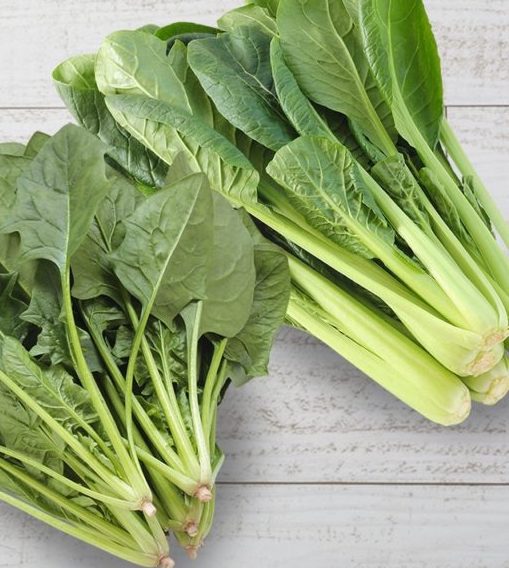 Komatsuna & Hōrensō
小松菜・ほうれん草の違い
Although komatsuna is becoming more readily available in farmer's markets outside Japan, it is still not a common sight in non-Asian grocery stores or vegetable stands. In Japan however, and especially in the Tokyo area, komatsuna is a staple green.
What is the difference between komatsuna and spinach?
Note that spinach (on the left) has red-tinged roots and pointed (almost arrowhead-shaped) leaves while komatsuna (on the right) has bulkier white-hued roots and rounded leaves.
Although they could be used interchangeably in most recipes, komatsuna is milder, sweeter and crunchier. Both leafy greens are nutritious; here is a comparative nutrition chart: