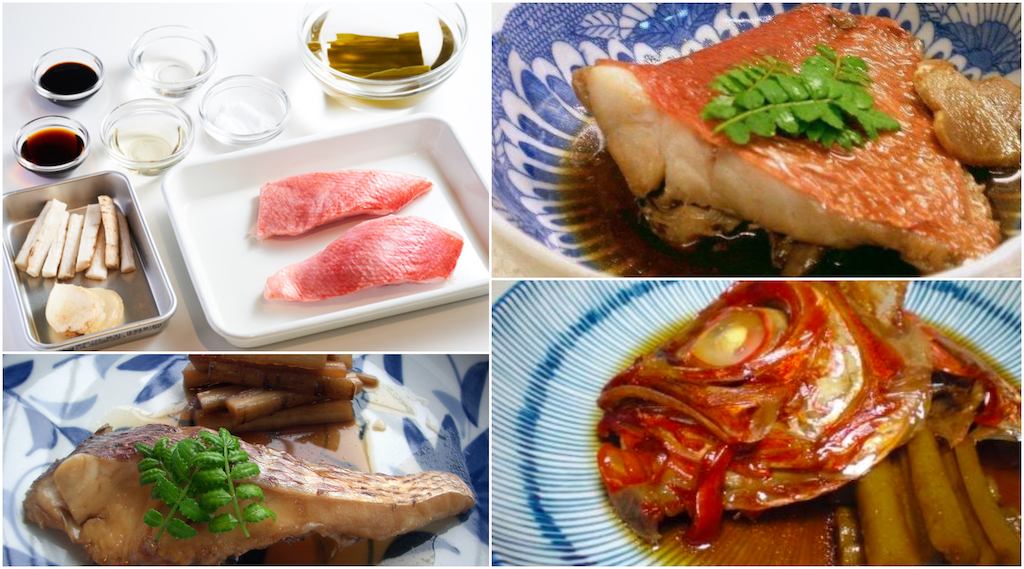 Gingery Soy-Stewed Red Snapper, several versions
金目鯛の煮付 KINMEDAI no NITSUKÉ
Nitsuké-style stewed fish is especially flavorful when cooked bone-in. In addition to slices with skin and bone intact, various fish parts including heads, and collars are delicious prepared this way. The key to keeping "fishiness" at bay is a quick-blanching technique known as SHIMO FURI or "frost falling."

霜降り  SHIMO FURI  "frost falling"
The words shimo furi refer to the appearance of fish, meat or poultry that has been briefly dipped in scalding hot water to rid it of unpleasant odors and to prevent unwanted scum from surfacing later as the food simmers.
To perform shimo furi, bring a pot of water to a boil before removing it from the heat source. With tongs, or long cooking chopsticks, carefully dip-dunk the fish in the pot, swishing the pieces through the scalding hot water. You need to work quickly to keep the food from cooking at this point, which would deprive the dish of its of full flavor and precious nutrients.
Lift the food out of the pot and either briefly dunk in icy cold water and transfer to a plate, or let it cool on a plate from the start. True to its name, the surface of the food will have changed color, now looking frosted. When cool enough to handle the food, proceed with simmering it in a seasoned broth.
DOWNLOAD details BASIC RECIPE for soy-stewed fish 2020