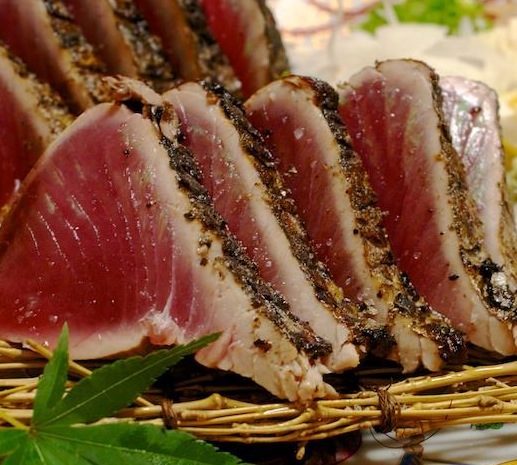 初鰹   HATSU-GATSUO   First Catch of the Season
Japan's seasonal sensibility is always on display at table; here the transition from spring into early summer is celebrated with hatsu-gatsuo (skipjack tuna (Katsuwonus pelamis) prepared tataki-style. Whole loins of katsuo are seared, plunged into ice water, patted dry and showered with fresh herbs… or pressed with cracked pepper and roasted garlic. Either way its prepared, the dish is accompanied with a dip of citrusy ponzu sauce.
The inhabitants of old Edo (the former name for Tokyo) were especially enamored with hatsu-gatsuo. There was a saying: nyōbō wo shichi ni iretemo hatsu-gatsuo "even if I have to pawn my wife, I must have a taste of the season's first catch!"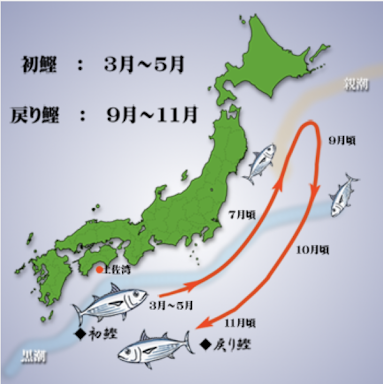 KATSUO's journey riding the north-flowing Kuroshio Current begins as water temperatures rise: lean HATSU-GATSUO (the first catch) typically appears in Tokyo's markets early in May. Come September, the fattened fish do a U-turn and head back south: MODORI-GATSUO (the returning catch) brings eating pleasure to the autumn table.
Outside Japan you will likely have trouble sourcing fresh loins of skipjack katsuo. If that is the case, I suggest you prepare beef instead.
DOWNLOAD the recipe for Tosa-Style Grilled Beef