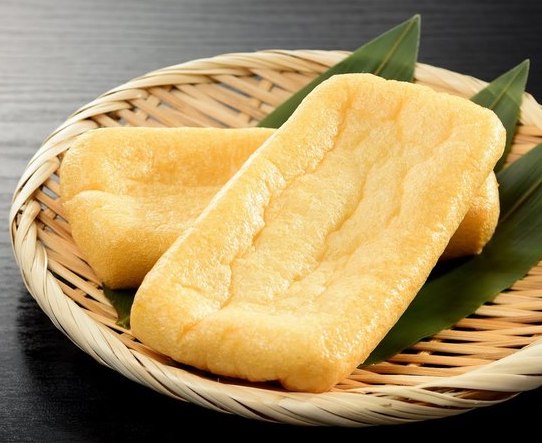 Foxy Fried Tōfu
Japanese culinary culture is filled with references to foxes and their fondness for abura agé (fried tōfu). Names of dishes made with fried tōfu will often allude to this fox connection.
Sometimes you see the word itself, kitsuné (fox) as part of the name of the dish. Kitsuné udon or soba are soup-noodles garnished with sheets of fried tōfu that have been simmered in a (slightly) sweet soy broth. The color of fried tōfu is often referred to as kitsuné iro or "fox-colored."
Other times you will encounter the word inari. Inari-zushi are sweetly soy-simmered pouches of fried tōfu stuffed with vinegar-seasoned (sushi) rice. Inari shrines are dedicated to rice cultivation; fox-figures guard the entrance to these shrines.
At other times, the word Shinoda will appear on menus. When it does, Shinoda is capitalized because it is the name of a place, Shinoda Forest, near present-day Osaka. The forest is the home to many legendary foxes, including one female fox that changed to human form and married a hunter (foxy lady!)

Kitsune Udon (Foxy Noodles), Inari-Zushi (Foxy Sushi-Stuffed Pillows), Shinoda Maki (Foxy-Wound Spinach Bundles)
Triangles? Rectangles? WHAT'S THE DIFFERENCE?
In the KANSAI area (Kyoto, Osaka, Nara, Kobe) the strong association of abura agé with fox legends is evident as a preference for TRIANGULAR shaped fried tōfu that is meant to suggest FOX EARS.
In the KANTO PLAIN area (Tokyo, Yokohama, Kamakura, Chiba, Saitama) the strong association of abura agé with inari shrines and RICE is evident as a preference for RECTANGULAR shaped fried tōfu that is meant to suggest freshly harvested RICE SHEAVES (tawara).
DOWNLOAD recipe for Foxy Fried Tofu to either stuff with sushi rice or garnish bowls of noodles.