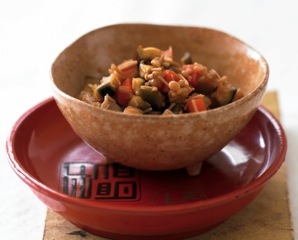 Photo from KANSHA © Copyright Leigh Beisch (Styled by Karen Shinto)
夏の福神漬け
Natsu no Fukujin-Zuké
Seven Good Fortunes of Summer
Named after the Seven Gods of Good Fortune, Shichi Fukujin, this pickle is made from an assortment of chopped vegetables with the addition of fresh ginger and either dried red chili (tōgarashi) or pepper corns (black, green or pink) contributing spiciness and a touch of fire. 
This style of pickling requires a double procedure; brining PLUS marinating (in a soy sauce liquid medium). Once assembled, refrigerate in a covered glass jar. The pickles are ready to enjoy within a day or two and can be kept for 4 to 5 weeks.
DOWNLOAD  Fukujin-zuke RECIPE from KANSHA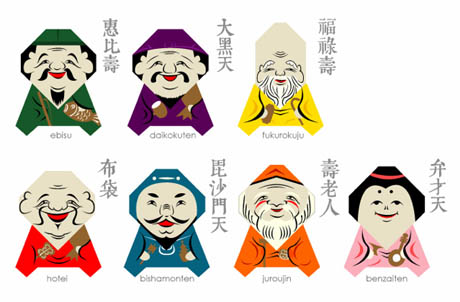 Shichi Fukujin 七福神
(Seven Gods of Good Fortune)
At table the seven good-luck gods appear in several guises. Here, as a mélange of seven flavors in a chutney-like pickle called fukujin-zuké and as a blend of seven spices called shichimi tōgarashi  (Learn more about it here)
The seven gods are: Ebisu, god of fishermen and merchants, often depicted carrying a sea bream (top row second from left); Daikokuten or Daikoku), god of wealth, commerce, and trade (top row center) – Ebisu and Daikoku are often paired – and represented as carvings or masks on the walls of small retail shops; Fukurokuju, god of happiness, wealth, and longevity (top row right); Hotei, plump, happy god of abundance and good health (bottom row left); Bishamonten, god of warriors, demonstrates strength and prowess (bottom row second from left); Jurōjin, god of wisdom (bottom row second from from right); Benzaiten or Benten-sama, goddess of knowledge, beauty, art and music (bottom row right).