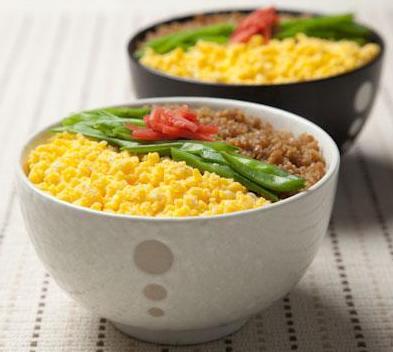 Soboro Don そぼろ丼
Colorful Big Bowl
When I first wrote about soboro don in 1981 for Food & Wine magazine, these sorts of rice bowls topped with various ingredients were little known outside Japan. Fast-forward forty years and classic domburi dishes such as tempura-topped tendon, pork cutlet-topped katsudon and "Parent-and-Child" (chicken-and-egg) oyako don can be found on most Japanese casual eatery menus in America, Europe and throughout Asia.
Interestingly, though, the mainstay for home cooks in Japan – soboro don – topped with crumbly-textured, succulent soy-simmered ground meat, has yet to become a go-to dinner option for busy internationals. Perhaps this post will change that; I hope so. I make soboro about once a month and freeze it in serving-sized batches. The other toppings – something yellow, something green, and something red – can easily be fashioned from foods already on hand. And it's fun styling toppings for Colorful Big Bowls into various patterns.
Colorful ideas for YELLOW items: fluffy, savory scrambled eggs, corn kernels, diced sweet yellow peppers and/or squash; GREEN items: peas, édamamé, fava beans, green beans, broccoli, asparagus, okra, Brussels sprouts; RED items: beni shōga (red pickled ginger), tomatoes, carrots (the Japanese think of these as "red"), beets, sweet red peppers, red radishes. BLACK items often are used to create dramatic contrast: soy-simmered slivers of shiitaké, crumpled or thin strips of nori.
Ground meat can be beef, pork, veal, turkey, lamb or a combination of them. Tōfu can used to make a topping, too. A recipe for shimi-dōfu (frozen tōfu chunks) and how to skillet-scramble them can be found in KANSHA, Celebrating Japan's Vegan and Vegetarian Traditions (Ten Speed Press, 2010) page 164-166. Cooked fish, especially salmon, can be flaked and scattered across your rice bowl; a great use of leftovers.
Ready to create your own soboro don? Start with bowls of rice – white, multi-grain or brown (recipes in KANSHA pages 11-16) and top them with ground meat, eggs, tōfu and/or vegetables.
DOWNLOAD RECIPES for  Gingery Ground Meat &  Fluffy Savory Eggs