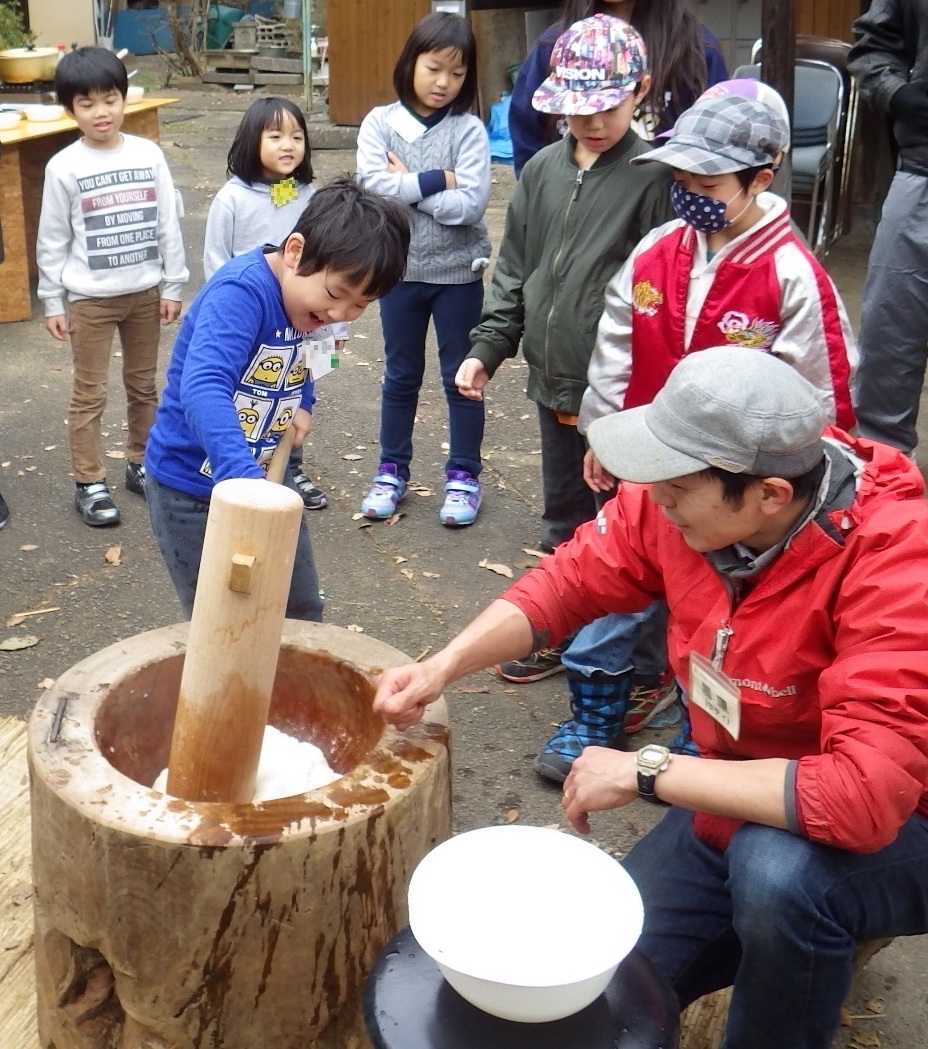 Pounding Rice Taffy
餅つき MOCHI TSUKI
MOCHI TSUKI… steamed mochi-gomé rice is pounded into a sticky, taffy-like mass. As the year comes to a close and preparations to welcome the new year are underway, communities throughout Japan organize rice-pounding events called MOCHI-TSUKI TAI KAI. For those living in Japan its a wonderful opportunity to connect with neighbors as these events are usually sponsored by local elementary schools and merchant associations.
Unfortunately this year, because of the Corona virus, in-person gatherings are being discouraged (a few are being held on-line). This photo was taken several years ago (the child wearing a mask had the sniffles and, as has always been the custom in Japan, wore a mask to avoid spreading germs to others).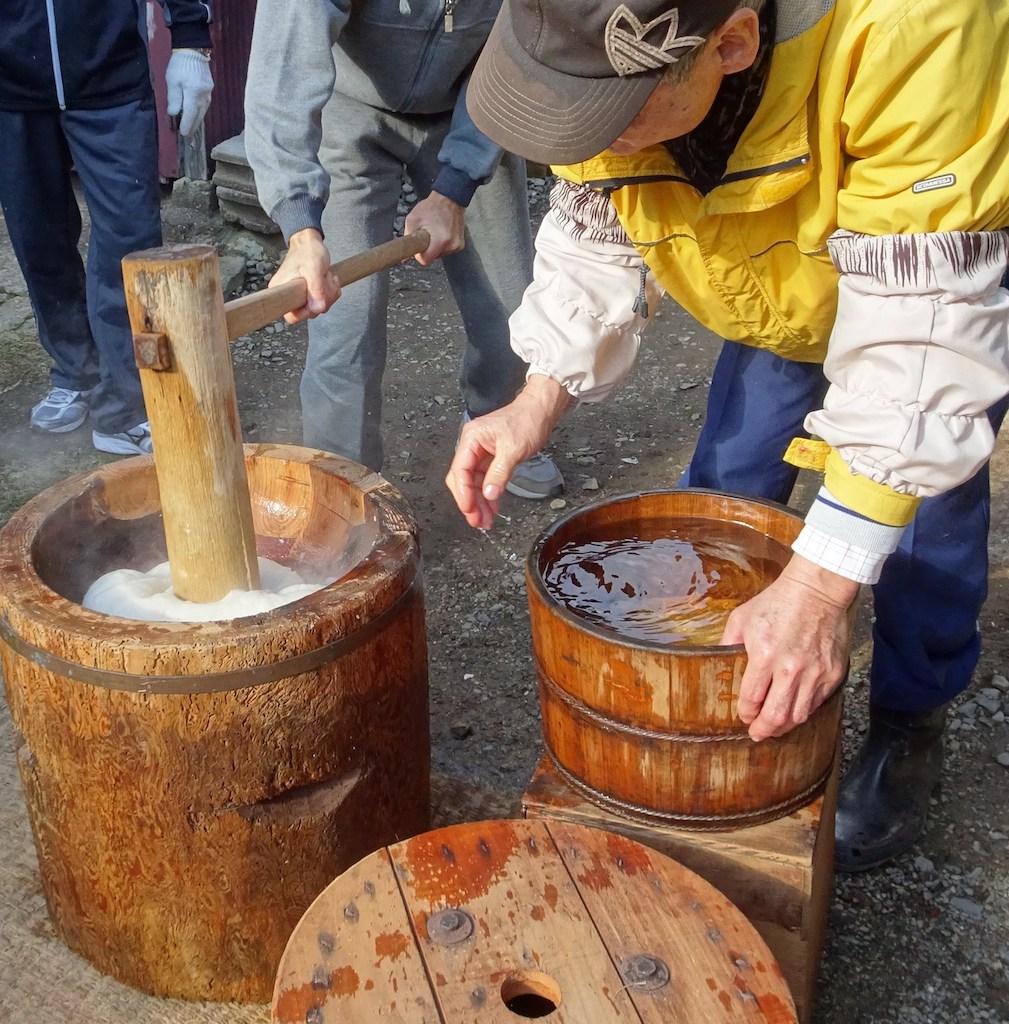 The wooden mortar-like vessel pictured here is called an usu 臼
The wooden mallet-like pestle is called a kiné (pronounced ki-nay) 杵
Mochi tsuki is a coordinated operation: One person swings the mallet while the other moistens the rice with water… flipping the mass and pulling hands away just before the mallet strikes down again. A rhythmical thud-slap-thud reverberates. Avoiding injury requires mutual trust… and a good sense of timing.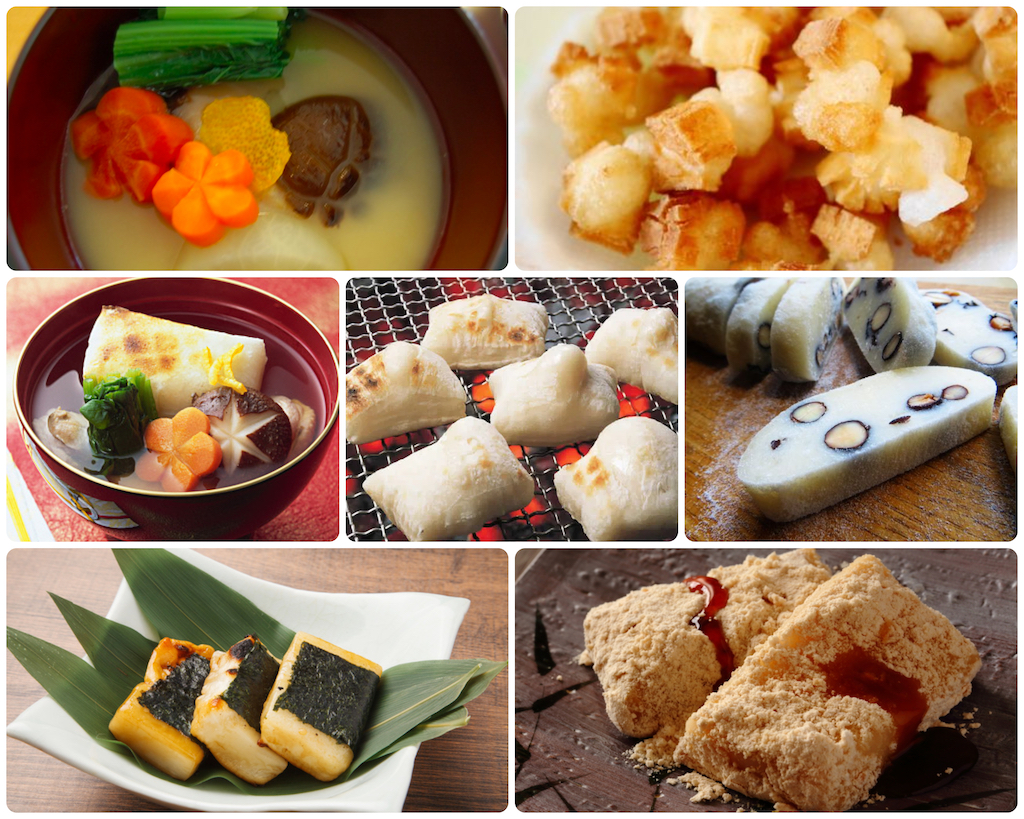 Enjoying Omochi in Many Ways
Freshly pounded omochi can be enjoyed as is – in all its chewy, gooey, stretchy glory – or simmered, toasted, or fried. Pictured here from top left: Kansai-style ozōni chowder with a miso-enriched broth; kaki mochi deep-fried bits of mochi, lightly salted; Kanto-style ozōni with clear chicken broth; grilled/broiled/toasted yaki mochi, the soft centers puffing up and bubbly; slices cut from a loaf of kuro mamé namako mochi; nori-wrapped, soy-slathered, toasted isobé mochi; kinako-dusted, kuro mitsu-drizzled Abekawa mochi.
Find out more about omochi and how to prepare & enjoy it…
DOWNLOAD About OMOCHI
DOWNLOAD Preparing & Enjoying OMOCHI