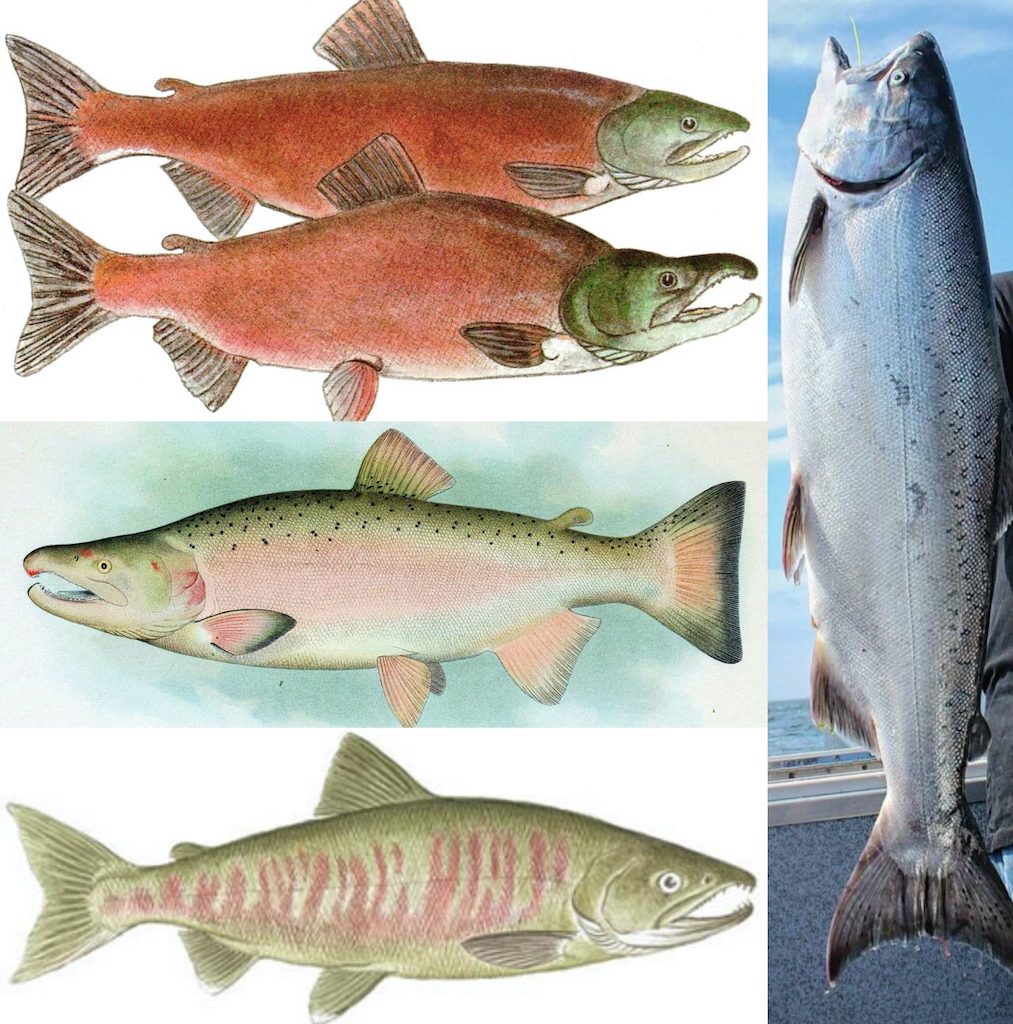 Four varieties of wild-caught salmon are commonly available in markets around the Pacific rim. Left, top to bottom + right:
Sockeye (beni-zaké in Japanese)
Coho (gin-zaké in Japanese)
Chum (aki-zaké in Japanese)
Chinook (kingu samon, in Japanese)
鮭・さけ・SAKÉ

SALMON
Fish nomenclature can be confusing. Even fish with the same scientific name come to market, appear on menus and in cookbooks by different names. Factors such as the time of year the fish is caught (season), the stage of its development (life cycle) when caught, regional dialect of where the fish is caught, and appearance are reflected in the names assigned to many fish.
Take SALMON, for example. All salmon are born in freshwater, migrate to the sea and then return to fresh water to spawn the next generation. In many species coloration and the shape of the mouth and nose change as the fish matures. A hooked nose is a characteristic of male salmon as they approach maturity.
Pictured top, left is SOCKEYE salmon (Oncorhynchus nerka ) also known as beni-zaké 紅鮭 ("red salmon"). Sockeye salmon spend up to four years in freshwater before they go to sea. They begin their life silvery-colored with dark backs and light bellies. During their time in the ocean (about 2 years) they eat a carotenoid-rich diet of plankton and krill that gives their flesh its characteristic ruby red hue.
COHO salmon (Oncorhynchus kisutch), also known as silver salmon, 銀鮭 (gin-zaké) in Japanese. Most wild caught coho that appear in Japanese markets come from Russia and Alaska; they appear a bit earlier (May-June) than other varieties. Notably rich flavor with bright orange-red flesh coho are best pan-seared. Pictured here is an adult male.
CHUM salmon (Oncorhynchus keta ) also known as shiro-zaké 白鮭 ("white salmon" because it's flesh is lighter in color than many other varieties ). Juveniles are called keiji 鮭児 and command a high price. Chum is also called aki-zaké 秋鮭 ("autumn salmon") because its peak of flavor is in the Fall. When in the ocean, chum salmon are metallic greenish-blue but they develop a tiger stripe pattern as they enter fresh water to spawn.
CHINOOK salmon, on the right, are the largest of the Pacific salmon — that is why they are called "king salmon." Along the west coast of America, Chinook are a threatened species.
Note: Salmon are commercially protected fish in Japan; catching salmon in rivers is strictly prohibited. Recreational salmon fishing is limited to catch-and-release in designated locations at certain times of year.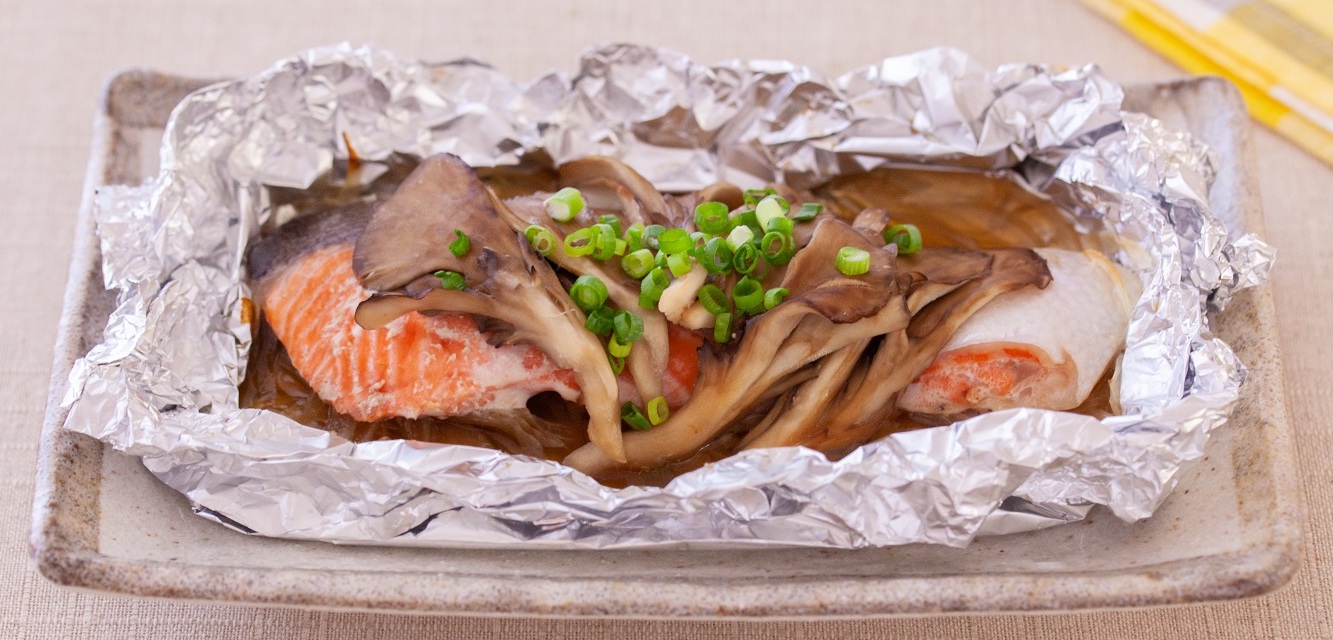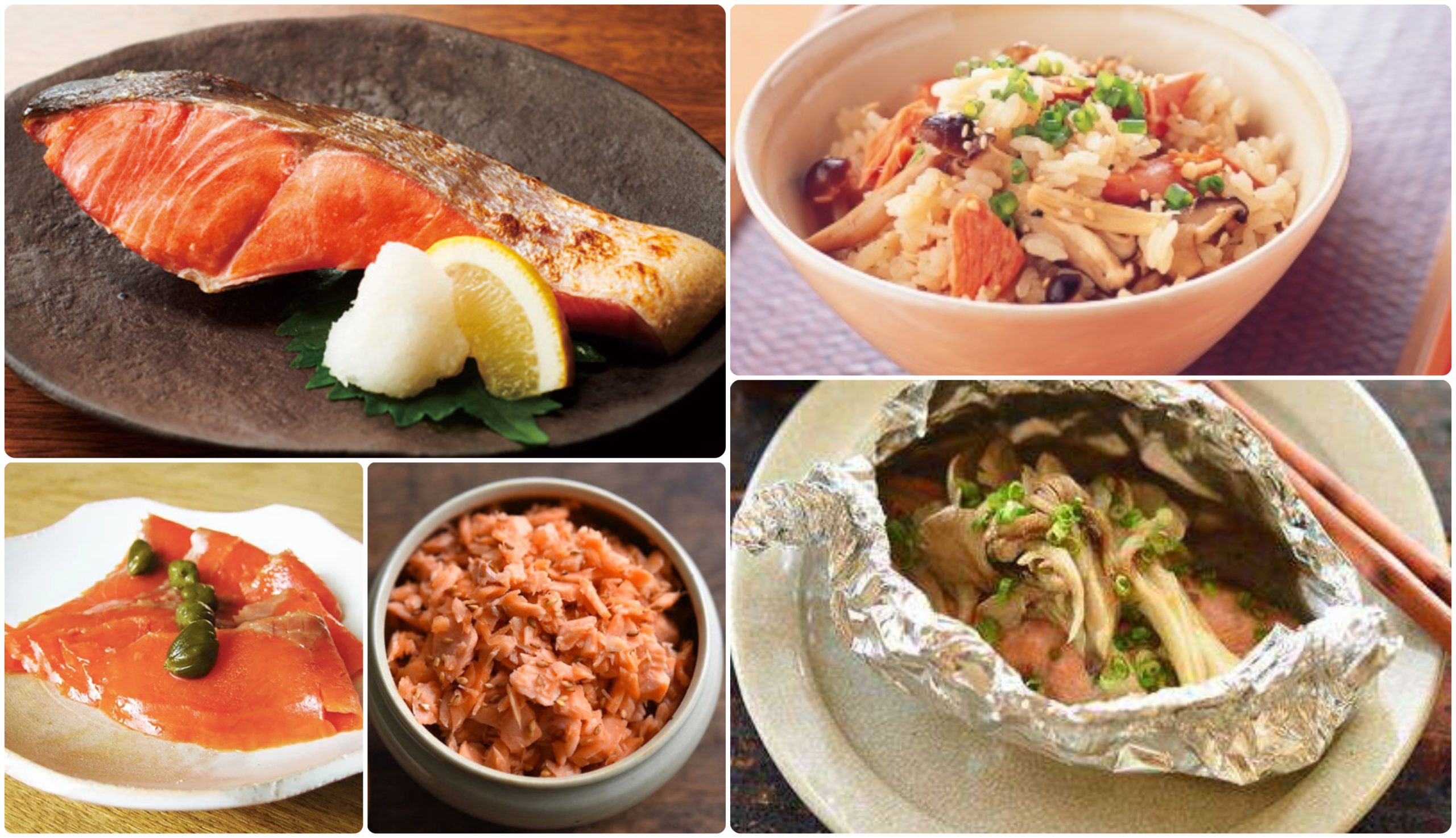 Preparing salmon in your kitchen
Visit the Project Salmon post for ideas and inspiration to prepare salmon in YOUR kitchen…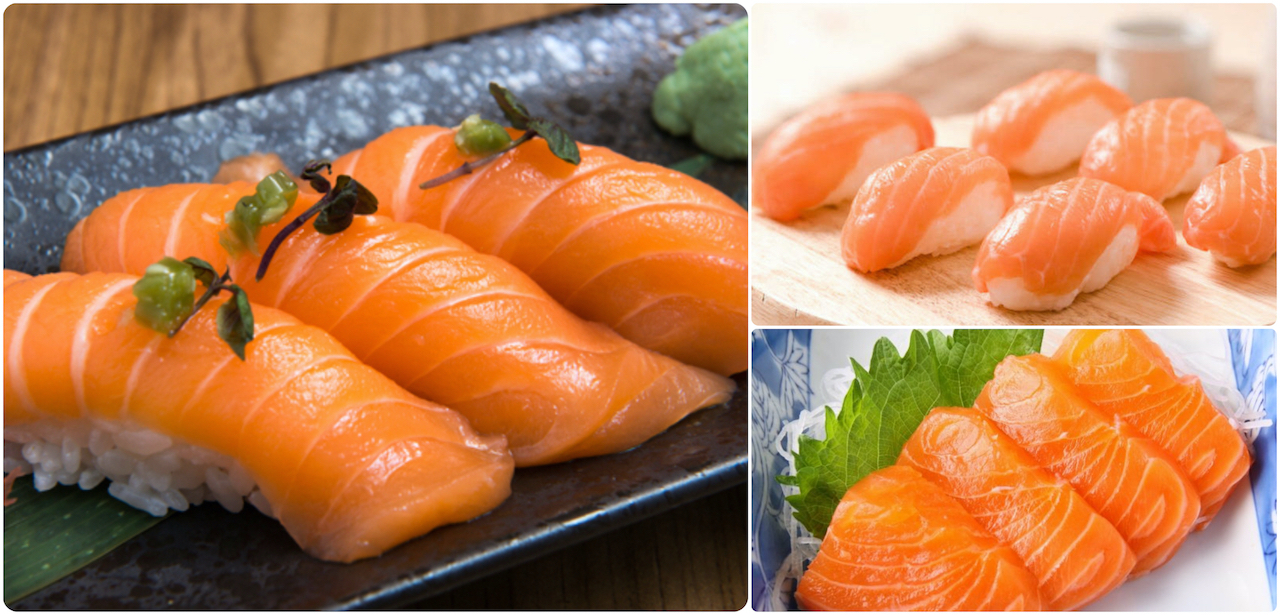 October 2022 newsletter about sāmon
The newsletter's main story is about sāmon, salmon served as sushi and sashimi. Download a copy of the October newsletter here.